2018-12-13: Provider mandated maintenance on the search server will begin 2018-12-14 UTC-0 09:30-10:30, and may require the search to be powered off from 03:00-15:00.Year-end planned maintenance on the full image server to replace degraded parity drive is also suggested by the Tetrarchy for 12-28 to 1-06, TBA.
Donations
would still help in case of image storage failure and we still need a new scraper.
The server is stable, but the scraper is at its final limits due to crippling resource use and cloudflare limits, so /gif/ and /wsg/ images are paused. Let's solve this: help build a new scraper.
More details here
.
Quoted By:
my son's dad
Quoted By:
Quoted By:
Time for a new help thread. Old thread:
>>10021835
What are you stuck on?
Quoted By:
What patterns and colors would be best for the changing season.
Quoted By:
It's nearing that time of year. Talk about wardrobe posts or post your own wardrobe collages!
>Are you making a wardrobe post this year?
>Whose wardrobes do you want to see?
>Whose did you like from last year, and why?
>Do you have any special photo setups planned?
>How much did your wardrobe grow?
>Do you think there will be less posts again this year?
>Where will you post?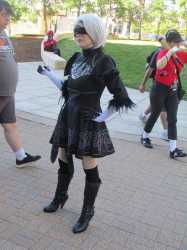 Quoted By:
A recent post got me thinking about cosplayers who make a habit of cheating in masquerades or craftsmanship contests, especially since some contests have cash prizes attached now. Let's get a list going of cosplayers to be wary of, and any interesting stories you have about contest cheating. This can include:
>Claiming you made a mass-produced cosplay
>Claiming you made a commissioned cosplay
>Lying about how a part of a cosplay was made, or if it was made at all
>Repeated sandbagging (aka entering multiple contests with a cosplay that already won a more prestigious contest)
>Sandbagging the same convention with the same cosplay
Quoted By:
Quoted By:
Previous thread:
>>10025716
Ask all your lolita and other jfash questions here. For any cosplay questions, your best bet is the cosplay help thread.
Tell me about your local cringlords, /cgl/
Ever been out in costume in public?

How do people react?