Threads by latest replies - Page 4
What went wrong?
>band photo
>black and white filter for no reason
Post your AOTY so far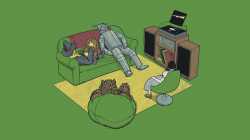 The best way to listen to Dark Side of the Moon (and Pink Floyd in general) is with your best friends in your parents' basement at 2am, right?
what was his best album?
Motley Crue
YOUUUUUUUUUU COUULD BE MINE!
'TALLICA BABY YEAH!!
What's the best music to listen to while cooking?